One of my goals for 2015 was to simplify my closet. I wasn't sure if this would mean getting rid of more stuff or putting together an actual capsule wardrobe.
I took it one step at a time, and a few months into 2015, I now have a clutter-free closet and a spring capsule filled with clothes that I love and will actually enjoy wearing.
So what is a capsule wardrobe anyways? According to un-fancy.com (where I spent most of my time getting inspired for this project), a capsule wardrobe lifestyle is the practice of keeping a small number of useful clothes in your closet and remixing them each season. Useful clothes are clothes that fit today (moms, you understand this), are suitable for the season, and are appropriate for your lifestyle.
Because I live in Phoenix (where spring feels like summer) and work from home, my capsule is filled with cool and comfortable clothes.
The biggest benefit of having a capsule wardrobe is this: I can now get dressed quickly in something that fits and feels good on me. All the hard work has already been done.
If all of this sounds overwhelming, it doesn't have to be. Here are some tips to get you started.
1. Find your style – If you had asked me a year ago to define my style, I would have had a hard time coming up with the words. But I could easily point out what I liked in magazines and on the people around me. Just recently it hit me that my style was staring me in the face on my Pinterest board. Looking at Pinterest, it's obvious that I lean towards neutrals in classic shapes with a pop of color every once in a while. Once I figured this out, it made everything easier.
2. Shop your closet – Save money by starting with what you already own. Try everything on. (Yes, everything.) It's time-consuming but worth it. Try to make multiple outfits. See what goes together and what doesn't. See what fits and what is uncomfortable. I ended up getting rid of some pieces that I thought would be really cute, but turned out looking frumpy in the mirror. I also let go of a few things that just didn't go with anything in my closet.
3. Sell & donate – After you try everything on, decide what you can sell and what you can donate. If there are stains or rips, just toss it. Otherwise, check out these ideas for getting money or credit for things in your closet.
Tradesy – There are lots of websites for selling clothing, but I have had the best luck with Tradesy. I love that they send me a shipping container when I sell something so all I have to do is drop it at the post office. Once the post office scans the envelope, the money goes into my Tradesy account. You can either cash out (for a small fee), or use your credit to buy something on Tradesy. (Just last month, I used $40 credit to buy brand new Frye sandals. Score!)
Facebook groups – I just found out about these, and I've already sold five or six items. There are groups for Stitch Fix, Anthropologie, and more. The best part about these groups is that the people in them are looking for these specific brands. So clothing that may get lost in the shuffle on other websites sell quickly here. You can also trade on these boards.
Swap parties – I have done these a few times with friends, and they are great! Bring items from your closet that you don't want anymore (but are in good condition), and go home with something brand new (to you) from your friend's castoffs. Items that are leftover can be donated to charity. Here are some more details on how to plan a successful clothing swap party.
Thrift store – Maybe your clothes aren't selling, or you just want them out of your closet already. Make sure to donate items that are in good condition (no one wants a big bag of trash).
4. Shop – Use your Tradesy credit or the money you earned from selling some of your clothing on Facebook. Fill in the gaps of your wardrobe with quality items you can use for a long time or resell. Remember, if you own less, you can afford to spend a little bit more. Or you can be a patient shopper and pick up things on clearance (like the black Paige skinny jeans I scored for $12.50 the other day).
5. Put together your capsule – I didn't pick a specific number, but popular numbers are 33 or 37. The capsule doesn't include workout clothes, swimwear, loungewear (or what my mom might call "knock-around clothes"), undershirts, or fancy dress-up clothes. Just your everyday put-together look. For me, almost everything in my capsule I already owned, so I just needed to weed out the extras. Also, I've decided that I am not going to be a stickler about this, and I probably will end up buying a few more tank tops because ARIZONA.
If you've read this far and are interested in what is actually in my capsule, I'm going to list it below.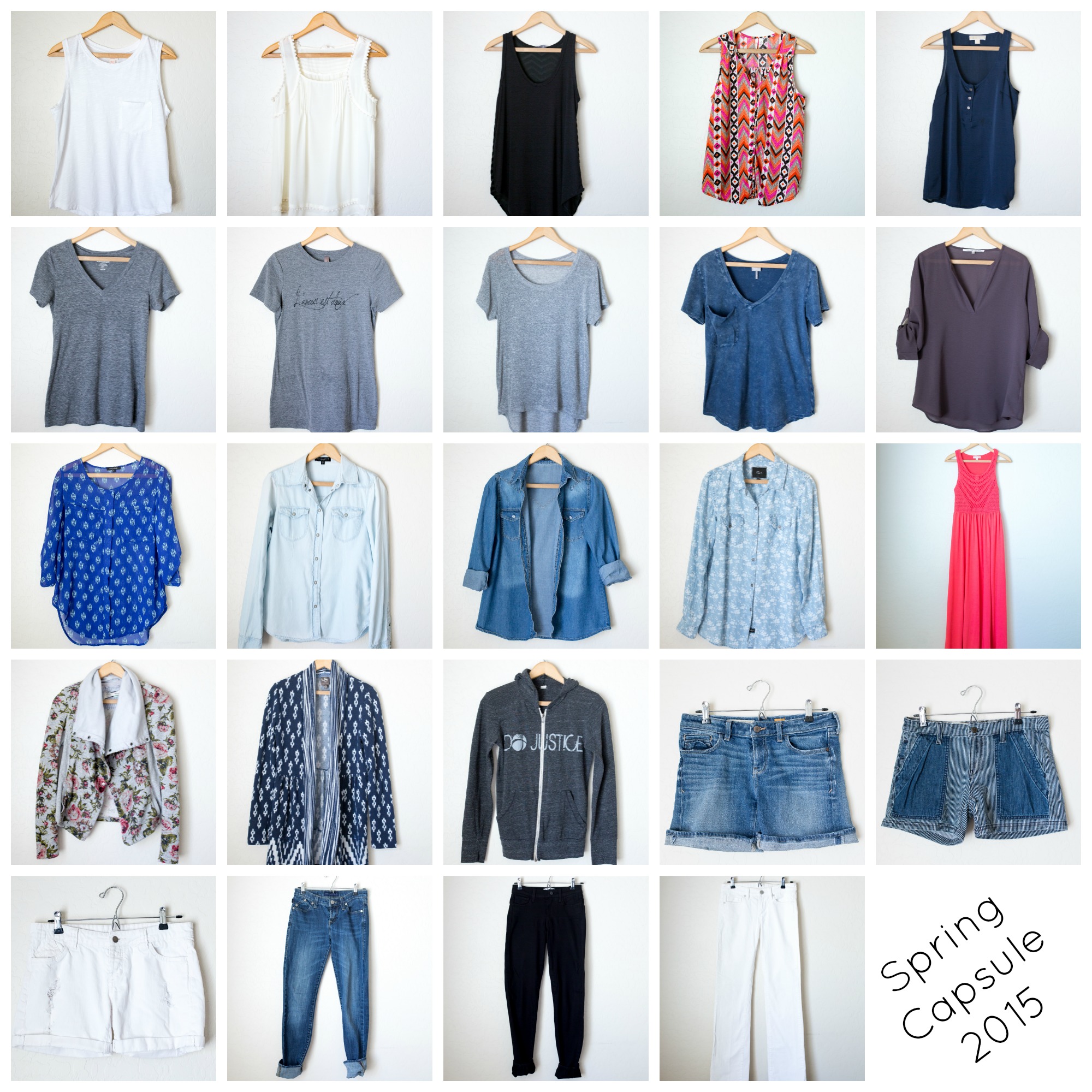 Top row: White muscle tank (Target), Off-white sheer tank (bought at a store called Splash a couple years ago), Black racerback tank (Stitchfix), Pink and black tank (Francesca's Closet), Navy Michael Kors tank (bought second-hand from a Facebook group)
Second row: Gray v-neck (Old Navy), Love is sweet t-shirt (Sweet T's on Etsy), Market & Spruce cozy tee (Stitchfix), Bobo navy v-neck (bought on clearance at a boutique in Missoula), Collective Concepts shirt (Stitchfix).
Third row: Papermoon top (Stitchfix), Sanctuary denim shirt (bought on clearance at Dillards), Zara denim shirt (bought with credit from Tradesy), Rails chambray print shirt (Christmas gift), GB dress (bought on clearance at Dillards).
Fourth row: Floral sweatshirt jacket (clearance at Anthropologie), Blue knit cardigan (clearance at Anthropologie), Do Justice zipper sweatshirt (Food for the Hungry), Pilcro jean shorts (Anthropologie), Pilcro shorts (clearance at Anthropologie).
Fifth row: White denim shorts (Forever 21), Rock & Republic skinny jeans (Kohls), Paige black skinny jeans ($12.50 at Down East Basics), White denim BCBG jeans (second-hand from Buffalo Exchange).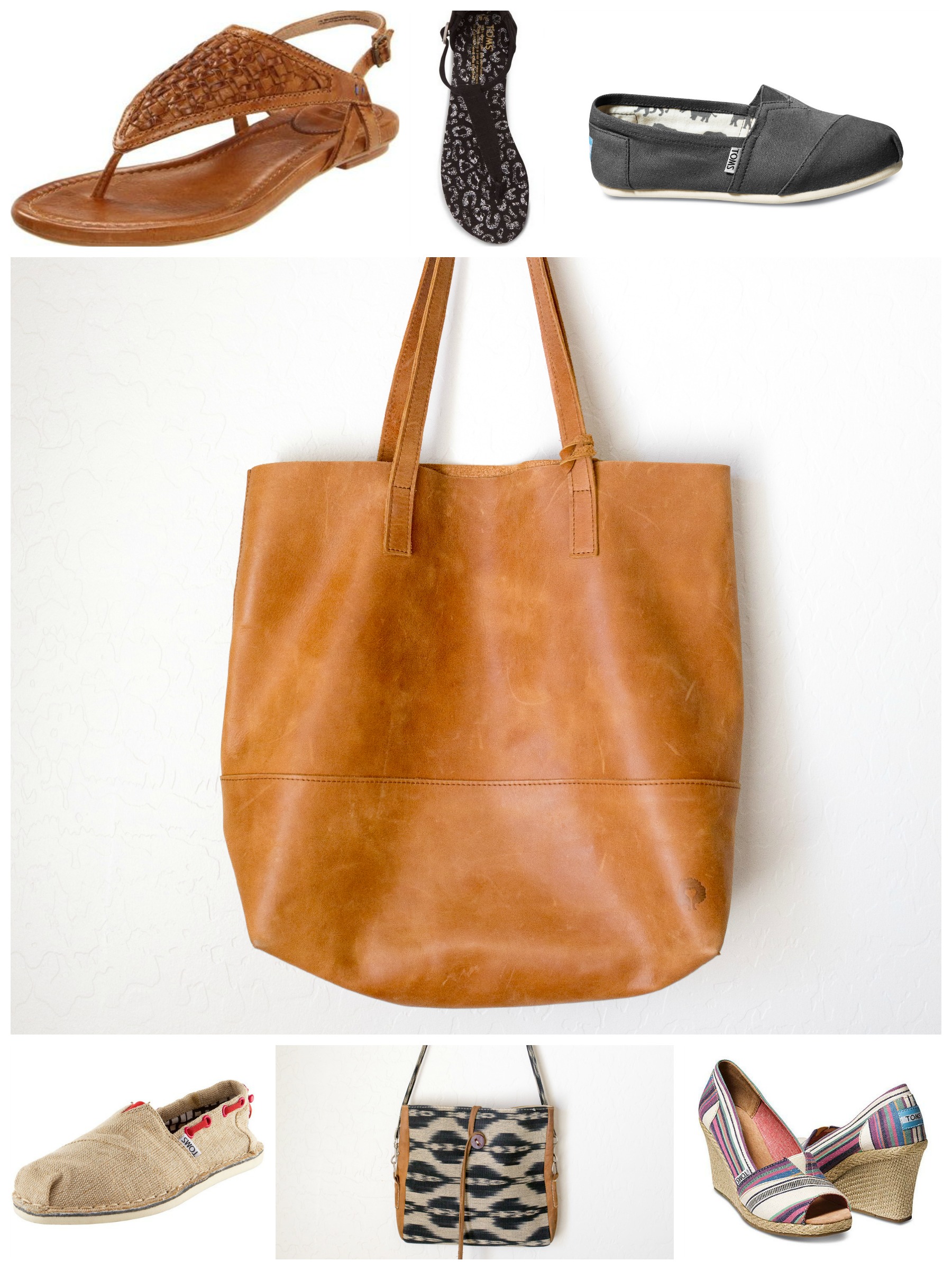 The shoes I will wear the most are on the top row. The Frye sandals were a steal (brand new in box with $40 credit on Tradesy). The TOMS sandals were bought with Zulily credit (start sharing Zulily finds on Pinterest and build up credit for yourself!). My gray TOMS are at least two years old, and well worn in. The burlap TOMS (I may have an obsession. Ahem.) are a few summers old. And the wedges don't get much wear because I'm not very fancy.
The small bag on the bottom is from Noonday Collection. And the beautiful brown leather bag is from fashionABLE.
Full disclosure:
Most of these items have been in my closet for a long time. Some are starting to fall apart, but I love them so much I keep fixing them.
Everything was bought on clearance or with credit except for a couple things I felt were worth spending money on (the R&R jeans I've had for over 3 years, and the Pilcro jean shorts get tons of wear since last summer).
So there you have it. My first capsule wardrobe!
What do you think? Have you wanted to put together your own capsule wardrobe? What holds you back? How can you take one step to simplify your closet?