One of the first things that people ask me when I first tell them that I've been diagnosed with Celiac Disease is, "So that means you can't have any bread, right?"  While it's true that I can't have any wheat bread, that doesn't mean that I have to give up bread forever.
After picking up a few loaves of gluten-free bread at the grocery store (and quickly putting them back because they felt like bricks), I realized that the best gluten-free bread I find will probably be made in my own kitchen.  For my first attempt, I used Bob's Red Mill Gluten-Free Whole Grain Bread Mix
.  I was a bit skeptical as to how it would turn out, not because I don't trust Bob, but because I don't trust my own baking skills.
Thankfully, I had no need to worry.  The bread came out soft and dense, but not too dense like the loaves at the grocery store.  It had texture from whole grains and seeds, and just the right amount of chewiness.  It was honestly some of the best bread I have ever tasted.  While the bread was still warm, I had the family taste it with a little bit of butter on top.  The kids raved about it, and Jeff gave it a thumbs up.  Today I ate a thick slice with smashed avocado and organic grape tomatoes on top.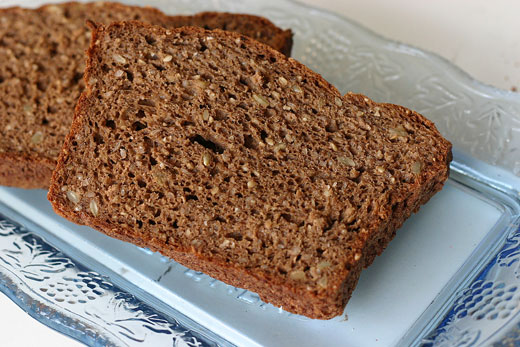 I know that if I am going to get serious about baking my own bread, I have a long list of flours and ingredients to buy.  The thought has been overwhelming enough that I haven't started buying any yet.  If you are a gluten-free baker, I would love some tips on how to get started.
And for those of you who don't need to avoid gluten, I still highly recommend that you make this.  Your tummy will thank me.