I hope you all had a wonderful holiday week!  We had a great time visiting family in Houston and Dallas.  As I sort through the hundreds of photos on my memory card, I thought it would be fun to put together a post of the Inspired RD recipes that got the most hits in 2011.  As you look through these, you will probably be able to tell which photos were taken by my old point-and-shoot camera and which photos were taken by my new DSLR.  I love looking back and seeing how my food photography has improved over time.
Ready?  Here we go!
#10.  How to Cook and Eat an Artichoke – This was a fun post because I was able to share tips on how to cook an artichoke while cooking my very first batch.  The kids fell in love with the flowery vegetable, and I got to give away a box of artichokes from Ocean Mist Farms.
#9. Herb Roasted Parsnips and Sweet Potatoes – I was surprised that this recipe made it into the top ten because it is one of my older posts.  The simplicity and earthy flavors definitely make it a winner though!
#8. Quick & Easy Quinoa Salad – I have always been a big fan of quinoa, but after going gluten-free this fall, I use it even more.  Throwing together a quick quinoa and veggie salad became my favorite way to do lunch during the hot days of fall in Arizona.
#7. Sweet & Spicy Pumpkin Fries – This recipe was a big hit as part of the Recipe ReDux that I joined this year.  A fun twist on a fall favorite.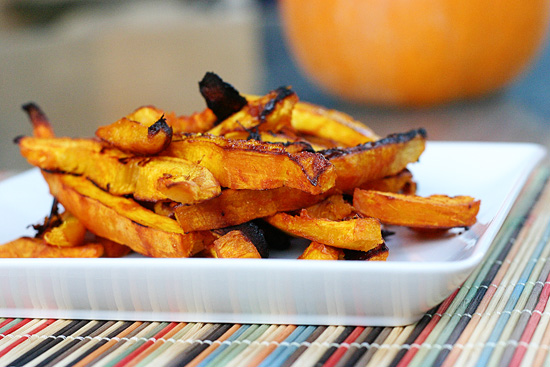 #6. Roasted Broccolette with Garlic & Olive Oil – My first time cooking with this fun vegetable with the tiny yellow flowers resulted in a new family favorite.  The kids especially enjoyed eating the little flower buds.
#5. Grilled Romaine Salad – Another Recipe ReDux challenge gave me a chance to try out one of my favorite restaurant salads.  I lightened it up by using balsamic vinegar instead of creamy dressing, and just a sprinkle of bacon.
#4. Pear & Pomegranate Christmas Salad – This salad has made the rounds being featured on The Pioneer Woman's Tasty Kitchen blog and more recently on BlogHer's new site Santa's Hideout.
#3. Slow Roasted Roma Tomatoes – These pretty tomatoes gave me my first accepted submission to the gorgeous collection of food photos at Foodgawker.  One of my goals in 2012 is to improve my food photography enough to have a submission rate of over 75% on the site.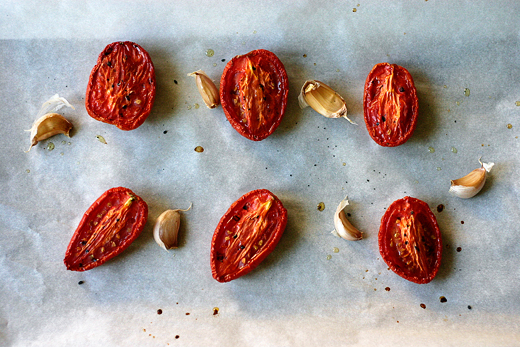 #2. Black Bean Sweet Potato Enchiladas – I am excited that this recipe continues to be a favorite.  I haven't met anyone who has tried these and not liked them.  I saw my cousin over the holidays, and he said that his family makes them once a week!  My favorite part about them is that meat-eaters enjoy this recipe as much as vegetarians.
#1. Oatmeal Pancake – We eat these every week, and it seems that some of you do too as this recipe had ten times as many hits as the next closest post.  If you haven't tried them yet, you should!  Oatmeal pancakes are a quick and easy way to start your day, and they will fill you up until lunch!
So there you have it.  The top ten recipes of 2011.  Have you tried any of them?  Do you have a favorite that didn't make the list?  I would love to hear about any of my recipes that you have made this year!
Do you have any suggestions on recipes that you would like to see in 2012?  If you have any ideas, please let me know.
As always, thanks for being here.  I appreciate each and every one of you who made 2011 so fun!