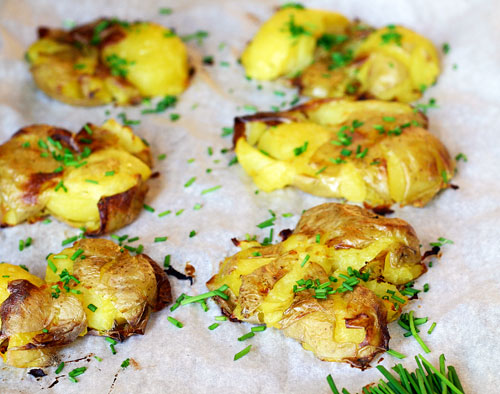 In case you missed it, my newest recipe is up on Mamavation.  It's a healthy take on crispy potatoes.  I just ate the leftovers with a fried egg for breakfast, and oh my deliciousness.  Make sure to go check it out!
And I am exited to say that the photo for this recipe was accepted to Foodgawker.  One of my goals this year is to have greater than a 75% acceptance rate which means I am really challenging myself to take better food photos.  Looks like I am at 100% so far!
A few other tidbits from this week:
-I am trying out a new recipe plugin that should make it easier for you to print out and follow my recipes.  It will take me a while to get through all of my recipes, but I will get there eventually.  Let me know what you think!  (see an example on this post)
-I am working on making my posts more "Pinterest-friendly".  This is also taking some time because I have to add each "Pin it" button individually.  I hope it helps to make it easier for you to pin your favorite things from my blog!
-I was honored to be mentioned by one of my favorite bloggers this week.  Thanks for the shout-out Mel!
-I realized soon after hitting the "publish" button on my post 5 things I'd like to do this year that I left out one of my VERY favorite blogs.  I wish she posted more often because she is one of the funniest people I know.  If you have a chance, go check out my friend Jessie's blog A Gaggle of Greens.
-One of my favorite reads of the week came from Glennon at Momastery.  If you are a mom and you haven't read Don't Carpe Diem yet, make sure to do so!
-The Inspiration to Fitness program began this week on BlogHer.  If you are looking to get healthy but don't have a plan yet, hop on board!  My heart health track will include cardio, strength, and flexibility training.  I tested out the first strength-training routine this week (will be posted on week 3), and I feel sore but strong!
-Our first week of Project 365 Thanks was a smashing success!  If you want to learn more about it and join us in giving thanks each day, start by reading this post.
Have a wonderful weekend!