In my post about 5 things I want to do this year, I mentioned improving my food photography.  I have been reading books, studying photos on Foodgawker, and reading tips on blogs.  The hardest part for me is having the eye for everything that is outside of and around the actual food that I am plating.  I am learning that just sticking the food on a plate and taking a picture isn't necessarily the best way to capture the essence of the dish.
The photos that really catch my eye on Foodgawker and Pinterest have many layers.  Interesting plates and utensils, pretty fabrics, even ingredients spilled out on the table.  I can't tell you how much this challenges me!  Although I am a creative person, I have a hard time "seeing" the finished product in my mind.  This means that I can only get better through lots and lots of practice.  If you are a photo pro and have any tips for me, please leave a comment!
By the way, you should have seen the behind the scenes for this photo shoot.  I was rushing around trying to get the pasta finished before the sun went down, running around looking for fabric to put on the table, hauling the pasta pot out to the backyard, shooing the dog away…. I guess that means that I need to work on my planning skills too!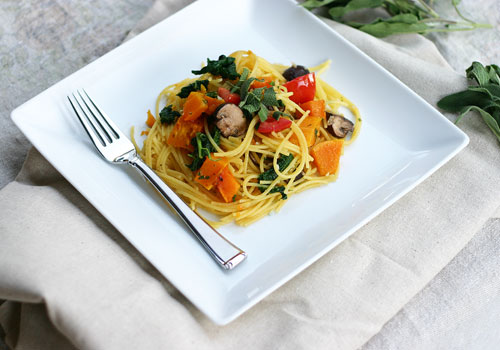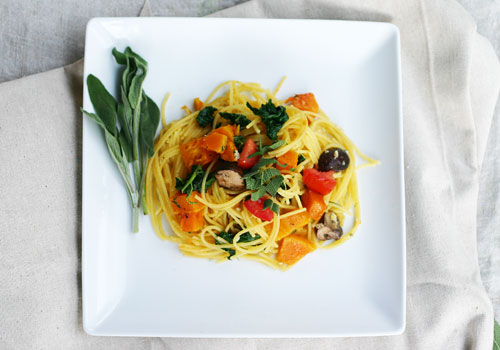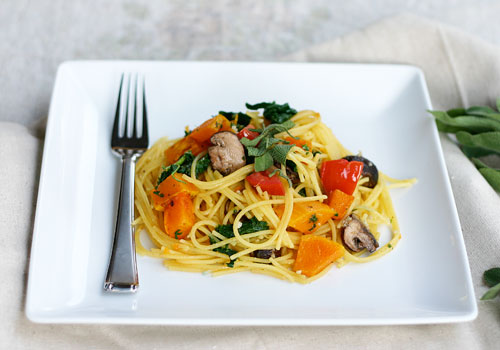 This pasta works with any veggies you might have lying around.  The secret to the yumminess is the lemon garlic butter.  After trying this dish, the sauce might become your go-to pasta sauce.  It definitely is for me.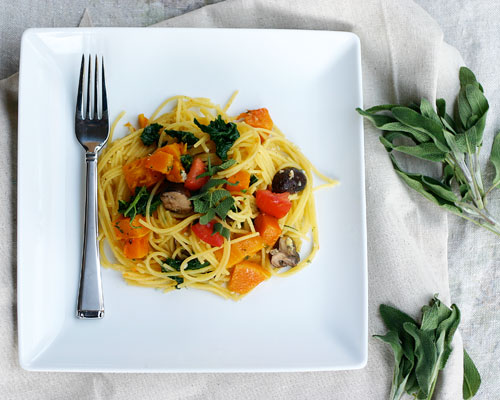 Pasta with butternut squash and kale in a lemon butter sauce
A vegetarian pasta that utilizes the bounty of winter vegetables
Ingredients
1

large butternut squash

peeled and diced

1 8

oz.

package baby bella mushrooms

cleaned and halved

1

tsp.

olive oil

1

bunch kale

washed, trimmed, and roughly chopped

1

lb.

quinoa spaghetti pasta

2 boxes

1

tsp.

freshly grated nutmeg

3

roma tomatoes

diced

Zest and juice of 1 lemon

3

cloves

garlic

minced

2

Tbsp.

olive oil

2

Tbsp.

butter

could use all olive oil if preferred

Freshly grated parmesan cheese for sprinkling
Instructions
Preheat oven to 400 degrees.

Set a large pot of water over high heat to boil.

Place butternut squash and mushrooms onto baking sheets, spread into one even layer. Mist with olive oil (or toss with 1 tsp. olive oil).

Put pan of squash into the oven to roast for 25 minutes. After 10 minutes, toss squash and add pan of mushrooms to oven. When squash and mushrooms are finished roasting, remove from oven and sprinkle nutmeg onto squash. Set aside.

When water comes to a boil, add in pasta and kale. Boil for nine minutes. Drain immediately.

Meanwhile, heat a small saucepan over medium low heat. Add olive oil and butter. When butter melts, add lemon zest and garlic. Cook for 2 minutes then remove from heat. Be careful not to burn the garlic! Add in lemon juice and stir.

Toss pasta and kale with squash, mushrooms, tomatoes and lemon butter sauce.

Sprinkle with fresh sage and freshly grated parmesan to serve.