Ok, so you already know that I am a piler, not an organizer.  But since I have declared 2012 "the year of organization" (not really, I just made that up), I decided to jump right in.  My first project was one that was staring me in the face every day.  My crafting closet was literally spilling out into the hallway outside of our bedroom door.
Lovely, I know.
The problem was that the closet held all of my crafting supplies and all of our games plus a bunch of books.  Something needed to move.  Thankfully, we moved the kids into the same room a few months ago, and now we have an actual office.
No, it is not organized yet.  One step at a time.
Jeff helped me move all of the games and books and anything else not craft-related out of the closet and into the office.  I didn't want to just pile and stack things up though because I knew it would be a mess in no time if I didn't get some kind of real organization going on.
I texted my mom and invited her to go thrifting with me.  She was in, so we headed to Goodwill.  I am so thankful that she came along for two very important reasons:
1. She has an amazing eye and found pretty much all of the stuff you see below.
2. It was senior day and even though she looks way too young to qualify, she got me a nice 25% discount.  Thanks Mom!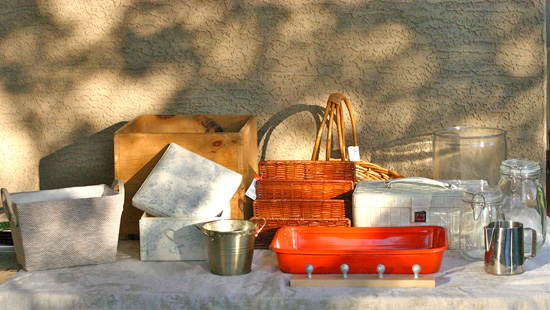 We came walking through the door with hands and arms full of thrifty finds, and the look on Jeff's face was priceless.  "I thought you were organizing, and you bring home all of this stuff!  Where is it all going to fit?"  Apparently he is not sold on "Alysa the Organizer" quite yet.
I have no idea why…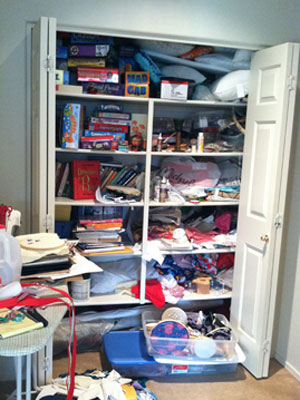 I told you it was bad!  Pretty embarrassing actually.  But look at what I did with my thrifty stuff!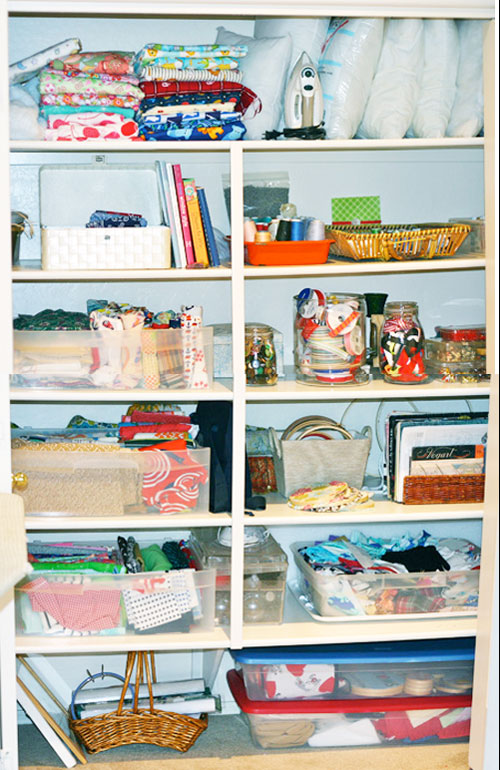 Looks better, right?  Way better!  And all for under $30.  Let me show you what we bought and how I am using it.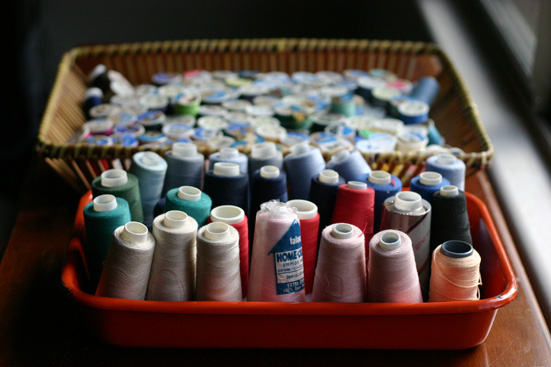 A rustic orange roasting pan holds my large spools of thread.  A large flat-bottomed basket holds the smaller thread.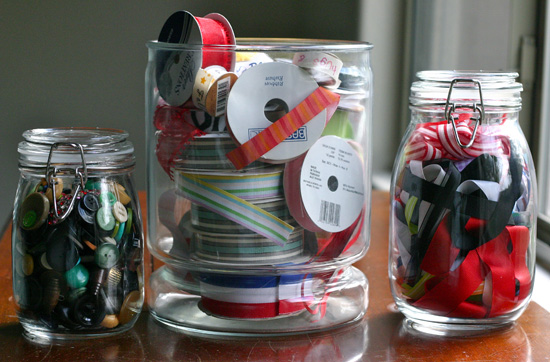 Glass jars hold ribbon and buttons.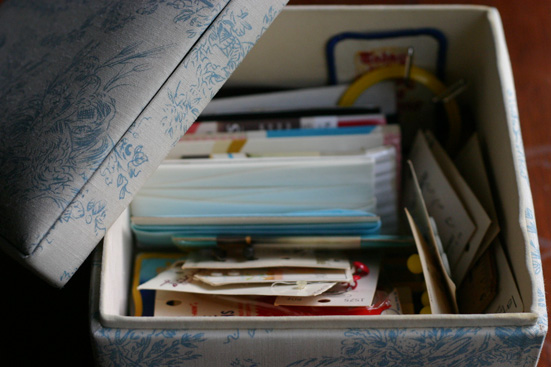 A vintage-looking toile box holds vintage buttons, trims and other notions.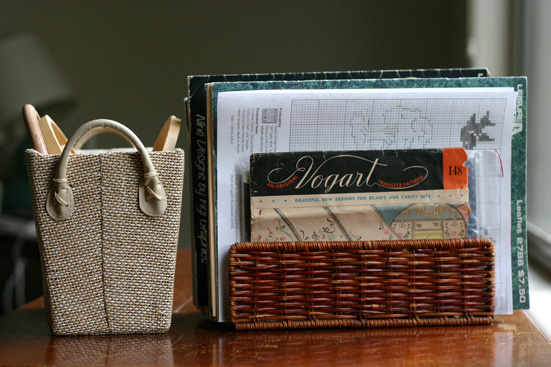 A tall skinny basket holds embroidery hoops, and a wicker magazine holder keeps my patterns organized.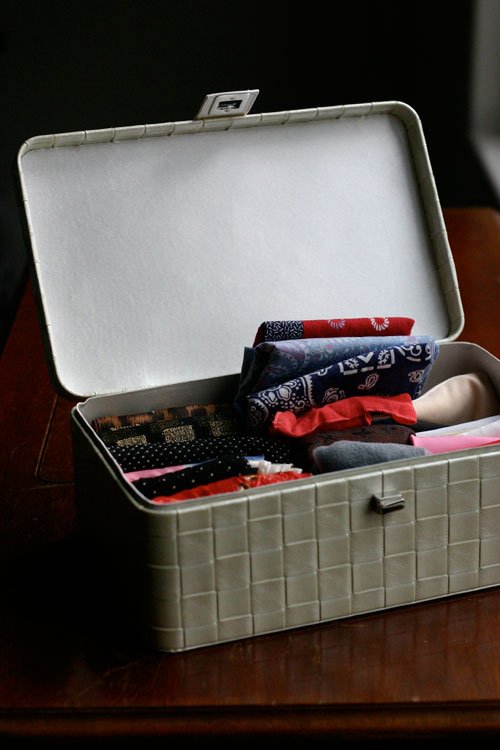 A fun box is the new home for my vintage scarves and hankerchiefs.
A small bucket holds raffia for tying up gifts and Etsy sales.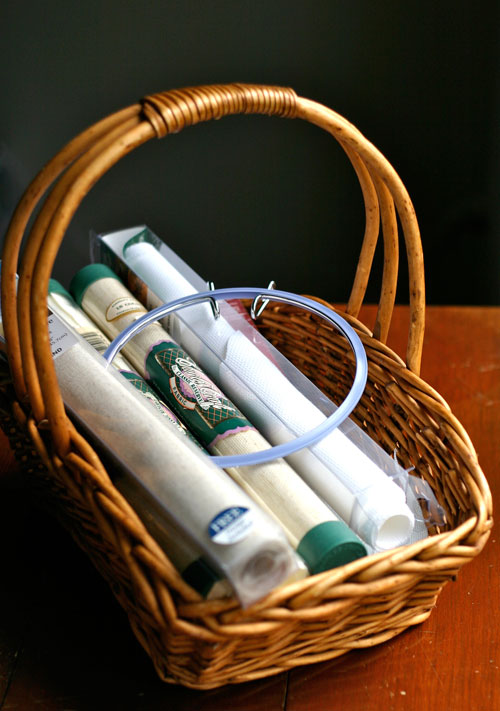 A basket holds my cross stitch and embroidery materials.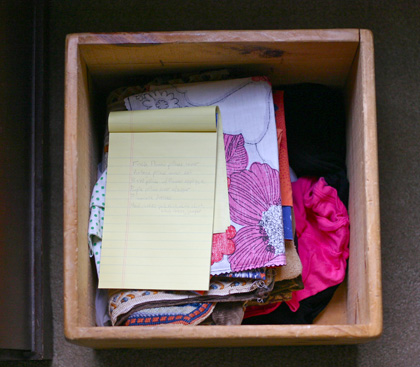 A large wooden box sits next to my sewing table to hold current projects (so they don't end up in a big pile on the desk).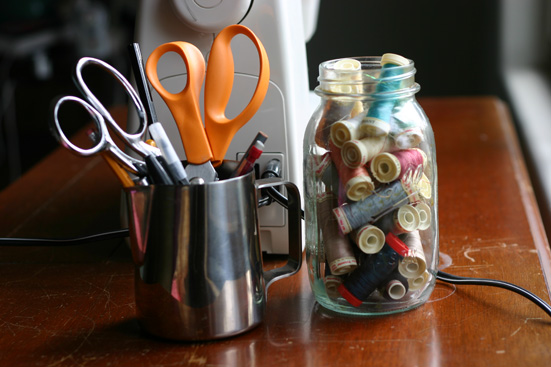 An espresso pitcher holds pens, pencils and scissors, and a mason jar shows off my nicer threads.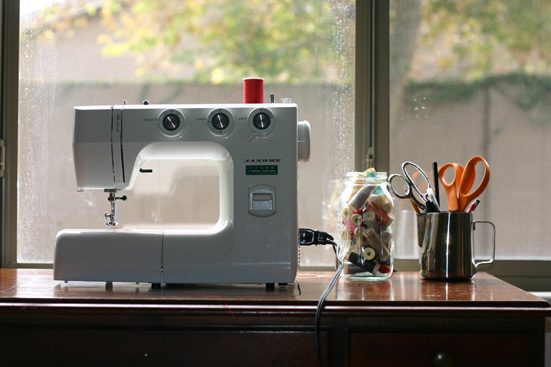 After showing my dad the new and improved craft closet, he asked how long it would stay that way.  I told him forever.  He laughed.  Now I'm even more determined to keep it organized!
Do you ever shop at thrift stores?  How do you keep your crafty stuff organized?