Since being diagnosed with celiac disease in August, I have learned to be prepared with a bag full of snacks at all times.  I never know when I'll be stuck in a situation with no gluten-free food in sight.  I'm sure I haven't even begun to scratch the surface on trying gluten-free products.  There are so many out there, and more being introduced every day.  In fact, from what I'm hearing from everyone who is attending Expo West this weekend, gluten-free is one of the hottest food trends at the expo.  I can't wait to hear about the exciting new products everyone is trying.  If you are there, let me know what I should search for first!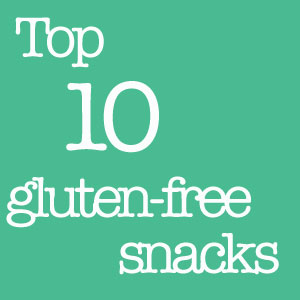 Based on what I have tried, here is my top ten list.  These items are always on my grocery list, and you can find at least one of these foods in my bag at all times.
Bhuja snack mixes are bursting with exotic flavors.  Most have at least a little spiciness to them, and some are very hot.  My favorite mix is the fruit and nut mix that includes dates, apricot, paw paw, sultanas, peas and peanuts.  I love these mixes so much that I have to fix pre-portioned baggies of them to avoid eating the entire bag in one sitting.
Larabars are my go-to snack bar.  I love the fact that there are no added ingredients.  My favorite flavor is Cashew Cookie which has only two ingredients: cashews and dates.  That's it!  The kids love these bars too, so I stock up when I can find them on sale.  Last week, I was able to find some at Target on clearance for only 50 cents per bar.  I bought them all!
I'm a big fan of the Justin's nut butter packets.  I keep them in my bag and pair them with whatever fruit I have on hand, usually an apple or a banana.  My favorite flavor is maple almond butter.
We buy Mrs. Mays trio bars at Costco which makes them very affordable to keep around.  These bars are simply nuts, seeds, and dried fruit pressed together into a bar.  They are crunchy with a little bit of sweetness, and are perfect for keeping in the car as they don't melt.
Mary's Gone Crackers are my favorite gluten-free crackers by far.  Most crackers I've tried so far are trying to replace a wheat cracker and fall way short of their goal.  These crackers don't do that.  They are uniquely their own, and they are delicious.  And not only are the gluten-free, but they are also vegan, GMO-free, and organic.  Try them with hummus!
Stretch Island fruit leathers are great to keep on hand for the kids, as they are 100% fruit with no added sugar.  But I keep them in my bag for me too.  If I need a little snack, especially right before a workout, I grab a fruit leather and I'm good.  We buy them in bulk at Costco, and you will find them in every purse I own.
KIND bars are another gluten-free product that have straightforward ingredients, nothing to hide.  My favorite flavor is almond & coconut.  It truly tastes like a treat!
Many people with celiac disease are also sensitive to dairy.  I have cut dairy out of my diet completely and feel much better.  I was delighted to find a dairy-free yogurt made with coconut milk.  One of my new favorite snacks is a small carton of chocolate So Delicious yogurt with a handful or raw almonds mixed in.  It's almost as good as ice cream!  (side note: So Delicious makes tasty gluten-free dairy-free ice cream too!)
Because I am in my first year of celiac disease, I have cut out all oats, even gluten-free oats.  But once I add them back in (after about a year), I am going to be stocking up on Love Grown Foods granola.  My favorite flavor is apple walnut because it contains full walnut halves.  And I can verify that this granola is truly made with love because I have met the adorable couple who started this company.  Alex and Maddy's passion for inspiring a healthy lifestyle is contagious.  Go buy some of their granola, you won't be sorry!
So there you have it, my top ten list of gluten-free snacks.
Are your favorites on the list?