Guess whose hip held up for a 20-minute run today??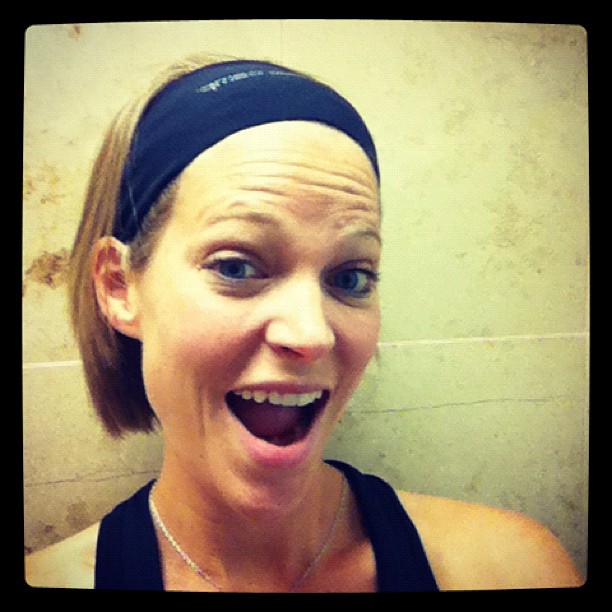 This girl's!
A 20-minute run might not sound like much to you fitness fanatics, but it was huge for me!  After hurting my hip last fall, then my back, then my hip again, I wasn't sure when or if I would ever run again.  On Tuesday, I was finishing up my workout when the Eminem song "'Till I Collapse" came on (don't judge), and I had the urge to test out my hip with a slow jog.  I listened to the song twice and jogged at a 5.0 on the treadmill.  I felt like I could go forever but knew I shouldn't push it so I made myself stop after 8 minutes.
On Wednesday, I went to the chiropractor and he said that my hip didn't feel any worse after the run, but he didn't want me to try running again until Friday.
Can you tell how excited and happy I was to run again today?  I've never been a huge runner, but I have always enjoyed the freedom of being able to run if I want to.
During my run today, I was thinking about quitting around 13 minutes in, then that song came on again.  I know, I know.  But it got me going and was the perfect tempo.  At about 18:30 my body began to tire, and I knew I needed to wrap it up.  Two hourse later I am definitely sore, but I hope that stretching and icing my muscles will give me the opportunity to try it out again on Monday.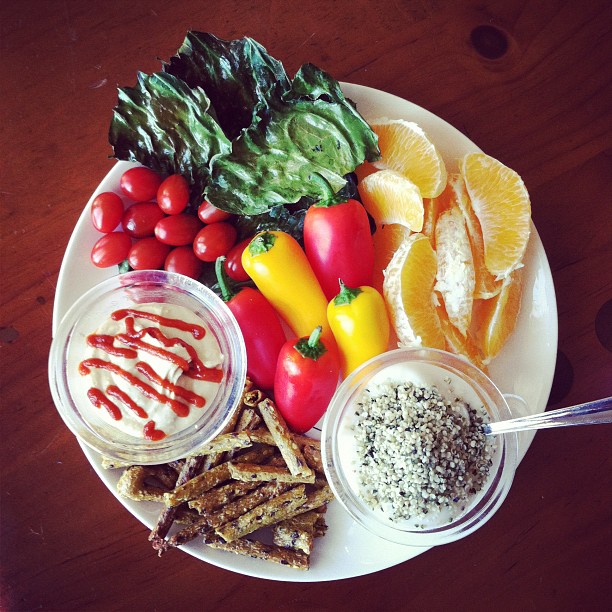 On the food front, this is what my lunch has been looking like lately.  This particular photo had more "likes" and comments on Instagram than any other photo I have posted recently so I thought I should share it with you.  Going clockwise from the top, you'll see collard chips (just like kale chips but made with collard greens), an orange, vanilla So Delicious yogurt topped with hemp hearts, Mary's Gone Crackers Sticks & Twigs (curry flavor), hummus with Sriracha, grape tomatoes, and mini bell peppers in the middle.
I find that when I have ingredients like this on hand, a colorful and delicious lunch is quick and easy to put together.
Okay, here's your question for today: What is your favorite workout song?  The one that picks you up when you're ready to quit?  Leave your answer below and I'll put together a workout list for us!
Have a great Friday!