This morning, we took a trip to the Gilbert Farmers' Market.  We picked up a colorful array of local produce, and something new that we've never tried before.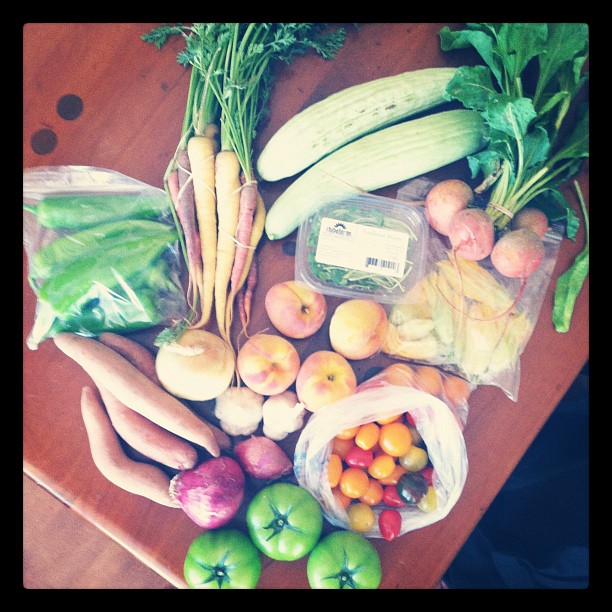 Our haul included chile peppers, sweet potatoes, green tomatoes, heirloom cherry tomatoes, onions, a shallot, garlic, sunflower shoots, peaches, golden beets, squash blossoms, armenian cucumbers, and rainbow carrots.  Before we talk about the squash blossoms, let me hit on my plans for some of the other items we picked up.
When I saw the green tomatoes, I knew I had to fry them up.  Here's the recipe I plan to use (substituting gluten-free flour, of course).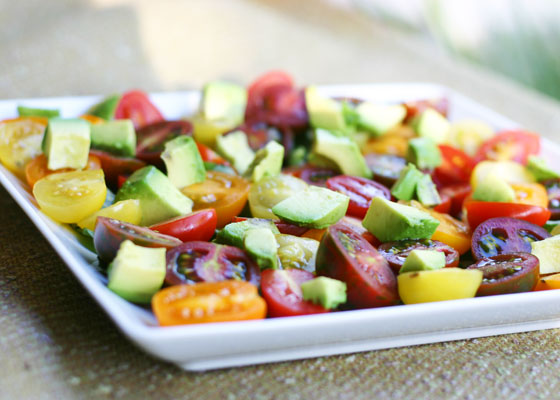 The heirloom mini tomatoes are for another round of Vegan Caprese Salad.
The rainbow carrots are for one of my favorite recipes from Sunset Magazine, Velvety Carrot Soup with Carrot Top Pesto.
The sunflower shoots are my new favorite for topping salads and sandwiches.  The golden beets will most likely be roasted with olive oil and a little salt to go with one of our dinners this week.  The green chiles are for roasting and freezing.  The armenian cucumbers are perfect to eat peeled with a sprinkle of salt (they are also burpless!).
And that brings us to the squash blossoms.  Usually when you see squash blossoms on a menu, they are filled with cheese and fried.  As yummy as that sounds, I'm not really doing the cheese thing right now, and I don't usually fry my veggies.  I started looking around at different recipes and found two that looked promising.
One was a squash blossom, avocado, and butter lettuce salad from Sunset Magazine.
The other was a recipe for avocado salad stuffed squash blossoms from Healthy Green Kitchen.  I liked the sound of this one best, so I decided to give it a whirl.
But first I had to figure out how to prep the blossoms.  The instructions I found online talked about gently removing the pistil inside so as not to tear the blossom, and to watch out for bees.  Bees?!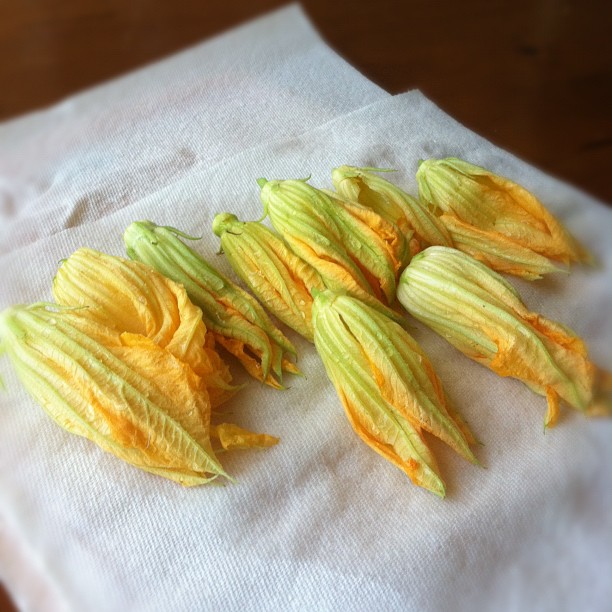 Ok, so I didn't find any bees, but it took a few tries to figure out how to remove the pistil without tearing the blossom.  I found out that using two fingers to try to pinch it off didn't work, and ended up using one finger to gently scrape the pistil out.  Once I got the hang of it, cleaning the blossoms was pretty easy.  I rinsed them and laid them out on a paper towel to dry.  About this time, the kids wanted to take a taste so they could tell everyone that they ate a flower today.
Joe isn't dramatic at all…
Once the blossoms were dry, I mixed together half an avocado, about 1/4 cup quartered grape tomatoes, a 2-inch piece of armenian cucumber, peeled and diced, a tablespoon of chopped fresh basil, and a sprinkle of vulcan's fire salt.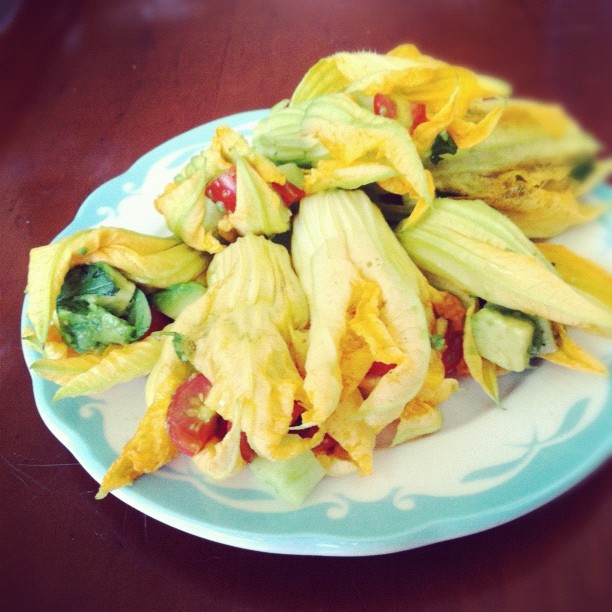 The mix filled eight blossoms, and I ate them for lunch.  The taste of the blossoms themselves was very mild and complimented the avocado salad inside.  The vulcan salt gave it a nice kick.
It's always fun to try a new vegetable (flower?), especially when you get to chat with the farmer who grew it.  If you aren't part of your local food scene, I would encourage you to get out there and join in the fun.
Did you visit a farmers' market this weekend?  Do you have any new food adventures to share?