This weekend I confessed to being the worst food stylist ever.  Lucky for you, our new contributor Mckel is one of the best.  Here she is with her first recipe for InspiredRD.  
Try not to drool.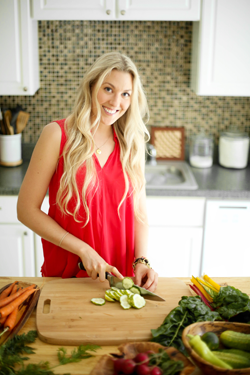 First, let me introduce myself to the wonderful readers of InspiredRD! My name is McKel, I'm the owner and food blogger at Nutrition Stripped. I'm also a Registered Dietitian/Wellness Coach, a self-proclaimed green smoothie connoisseur, fitness fiend, lover of all things veggie/avocado/tea and chocolate related, and I'm quite the nutrition nerd.
I'm excited to contribute to InspiredRD for gluten-free recipes. Feel free to check out Nutrition Stripped to read a little more about me and about my food philosophy. But let's move on to the gluten-free recipe I wanted to share with you all today. Baked Eggs.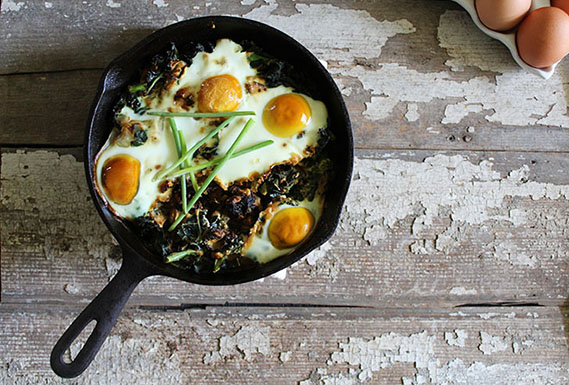 Baked Eggs with Garlic Kale and Sun-dried Tomatoes is a dish sure to please everyone alike, no matter what dietary preference. This recipe is wonderful for entertaining, or for brunch on a chilly fall afternoon while family and friends are over for the holidays, or for a family style dinner, and of course, enjoy simply as is solo! Baked Eggs are easy to make with simple, nutrient dense and gluten-free whole food ingredients, which is perfect for everyone.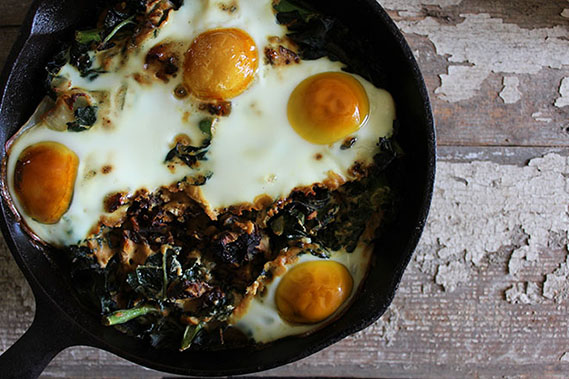 The star ingredient of this dish is the egg, therefore make sure you're purchasing QUALITY eggs preferably from a local farmer you're in contact with or from humanely raised chickens. I'm not a fan of other farming practices and mass factory farming of chickens to produce eggs, and don't recommend supporting this practice by purchasing from companies that operate in this way.
I challenge you to befriend and get connected with your local farmers, farmers market, or seek out local eggs in your grocery/health food store to consume! You're not only supporting your community and positive farming practices, but the egg quality and nutrition is superb. Keep in mind, the flavor and color of the egg yolk tells all! The deeper and more rich in golden color the egg yolk, the more nutrient dense.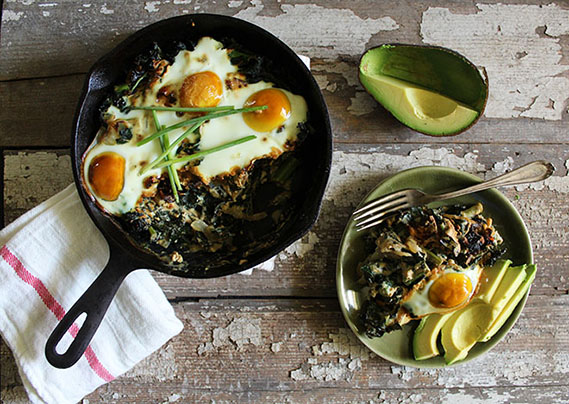 Buy //  Food labeling can be tricky and misleading. Keep it simple and look for organic, pasture-raised, or humanely raised. When in doubt, ask where and how the chickens are raised!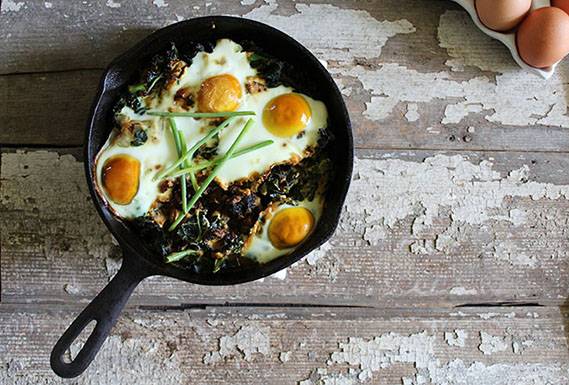 Baked Eggs with Garlic Kale and Sun-Dried Tomatoes
Ingredients
4

cups

organic kale

chopped and sauteed

4

whole eggs

½

cup

almond milk

or of choice

½

cup

sweet onion

sliced

¼

cup

sun-dried tomatoes

diced

¼

cup

nutritional yeast

4

garlic cloves

minced

1

tablespoon

dijon mustard

1

tablespoon

of coconut oil

dash of cayenne

ground black pepper to taste

sea salt to taste

top with cheese of choice

cashew cheese, vegan cheese, dairy cheese, etc. optional
Instructions
Preheat the oven to 350 degrees F.

CHEEZE SAUCE //

In a small saucepan bring the milk, nutritional yeast, mustard, pepper, sea salt, and 1 clove of garlic to a simmer.

Take off heat after this cheeze mixture has reached a simmer.

Set aside.

CARAMELIZING ONIONS //

In a large skillet, add coconut oil and sliced onions.

Add sea salt and pepper.

Cook this mixture, stirring occasionally on medium heat (the goal is to have soft and sweet onions)

When onions start to caramelize, add in remaining 3 cloves of minced garlic.

Add in the chopped kale and sun-dried tomatoes and cook until softened.

ASSEMBLY //

Pour the prepared CHEEZE mixture into the cast iron skillet (with the kale and onions)

Crack open each egg over the sauteed mixture, one at a time.

Transfer the same cast iron skillet (or oven safe skillet) into the oven to bake.

Bake at 350 degrees F for 20 minutes or until the mixture is bubbly and golden brown just on the top (note: the less time baked, the more "runny" the yolk will be).

Serve as 1 serving or share with 2 (you can easily double the recipe for more servings)

Enjoy!
I hope you enjoy this Baked Eggs dish as much as I do, especially dipped with your favorite gluten free crackers or toast! Share below how much you love Baked Eggs.
Till next time,
McKel