I love brussels sprouts.  Seriously.  I've been talking about the goodness of roasted brussels sprouts since I learned about them from Ina Garten ten years ago.  Watching her roast vegetables with olive oil and salt changed my world.  I've never met a roasted vegetable I didn't like.
A year ago, I asked you what your most hated vegetable was.  Many of you said brussels sprouts.  I challenged you to try them again, roasted this time.  I can't tell you how happy it made me to hear how these once hated veggies had become one of your favorites.
I don't know about you, but my favorite part of roasted brussels sprouts is the crispy outer leaves.  The little browned bits.  That's what kept me going back for more.  This week it suddenly dawned on me, why not take the leaves apart and roast them individually?  Then they would all be crispy!
I made a quick trial batch in the toaster oven and Leila declared them a success by asking for "more chips please".  I served the full batch as a side to our dinner.  I saved the insides to roast whole tonight.  Yay, more brussels sprouts!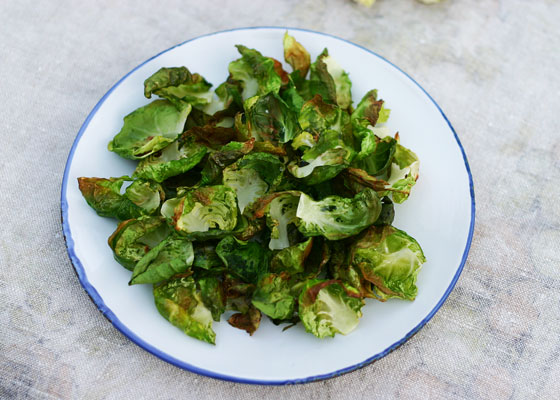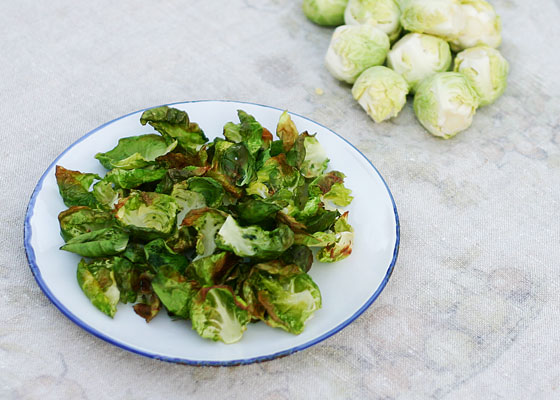 Brussels Sprouts Chips
Like kale chips? You'll love these!
Ingredients
10

brussels sprouts

1

tsp.

olive oil

or Misto olive oil sprayer

1/4

tsp.

salt
Instructions
Preheat oven to 350 degrees.

To remove outer leaves of brussels sprouts, use a sharp knife to trim off the very bottom. Outer leaves should fall off easily. Once outer leaves are removed, trim the bottom again, removing more leaves. Continue removing leaves until they become difficult to peel off. Save the center of each brussels sprout for another recipe.

Toss leaves with olive oil and salt. Spread out in a single layer on baking sheets lined with foil or parchment paper.

Roast for 10 minutes, then check leaves. Remove any that are crisp. Place baking sheet back in the oven and check every few minutes until all leaves are crisp. A little browning on the edge of the leaves is fine, but don't let the entire leaf turn brown or it will become bitter.

Serve immediately.