The interwebs are abuzz today over news that Miley Cyrus has not only gone gluten-free, but has also told everyone that they should go gluten-free too.
According to Miley, "gluten is crapppp".
It seems like everyone was chatting about their thoughts on the subject, and dietitians were trying to remind the public that there is no need to avoid gluten if you don't have an actual medical issue with it.
My favorite post came from someone you should be following if you have celiac, Gluten Dude.  Read his opinion here – "Miley Cyrus Goes Gluten Free (and the World Goes Insane)".
Here's what popped up when I did a Google search for "Miley Cyrus gluten".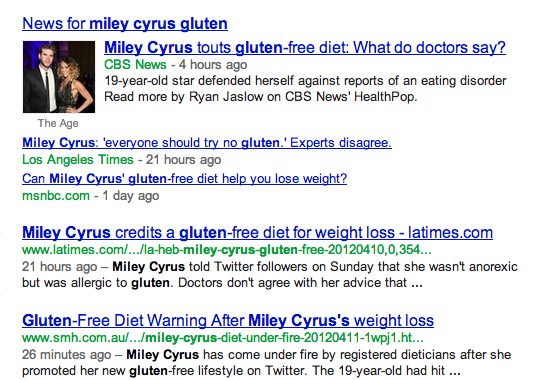 When asked how I felt about the whole thing, I immediately realized that whenever things like this happen, and gluten gets lumped in with the words "fad" and "trendy", it makes it harder for me to order safely at a restaurant.  Here's a conversation I had with someone about it on Twitter this morning.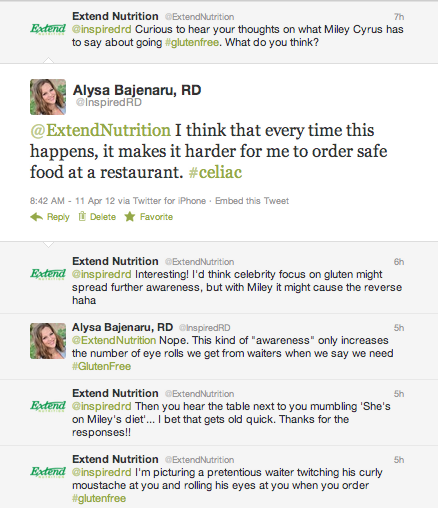 That last tweet had me laughing as I pictured a cartoonish waiter with a long mustache turning his nose up at the words "gluten-free".  Can you see it?
But seriously, this is the trouble I run into when this diet that keeps me from getting horribly sick gets viewed as trendiness or even worse, pickiness (that's a whole other blog post).  If the restaurant staff doesn't take my dietary needs seriously, I pay a very hefty price!  My health is shot for weeks.
I don't blame Miley Cyrus for the crazy attention that comes from her statement.  She feels better and she wants to let people know why.  Don't we all do that?  And let's be honest, before I was diagnosed with celiac disease, I didn't have a clue as to how difficult it would be to safely eat gluten-free.  When I learned about celiac in school, it was still thought of as a rare disease.  And working with new moms, the subject didn't come up very often.
Even when I made an effort to accommodate my one celiac friend at parties, I wasn't thinking about cross contamination or hidden ingredients.  (Julie I love you, and I'm so sorry I didn't know better!)
So maybe this kind of celebrity attention is a good thing.  It gives you and me the chance to educate people on the difference between gluten-free as a "lifestyle choice" and gluten-free as a medical necessity.
What do you think?  Is this celebrity attention to gluten good or bad?