Did ya'll know I'm a photographer?!
I knew the stars would be bright in Montana this summer and couldn't pass up the opportunity to photograph them. So before leaving Arizona, I tagged along on a night sky photography shoot with my incredibly talented friend Justin. In the dead of night on the Salt River, he patiently explained the basics and before long, I had captured this:
And this.
And just like that, I was hooked.
When I got to Montana, I couldn't wait to get started. After a few weeks of full moon brightness and cloudy skies getting in my way, I was finally rewarded with a few pitch black nights. With the basics that Justin taught me under my belt, I started playing around and getting more adventurous with my photo shoots.
As I began posting more and more starry night photos on Instagram, people began asking me for tips. I thought I would share the basics here, in case you might want to try night sky photography too!
(Keep in mind, this is just a beginner's guide. There are tons of great resources out there to take you further if you want to get more serious about it.)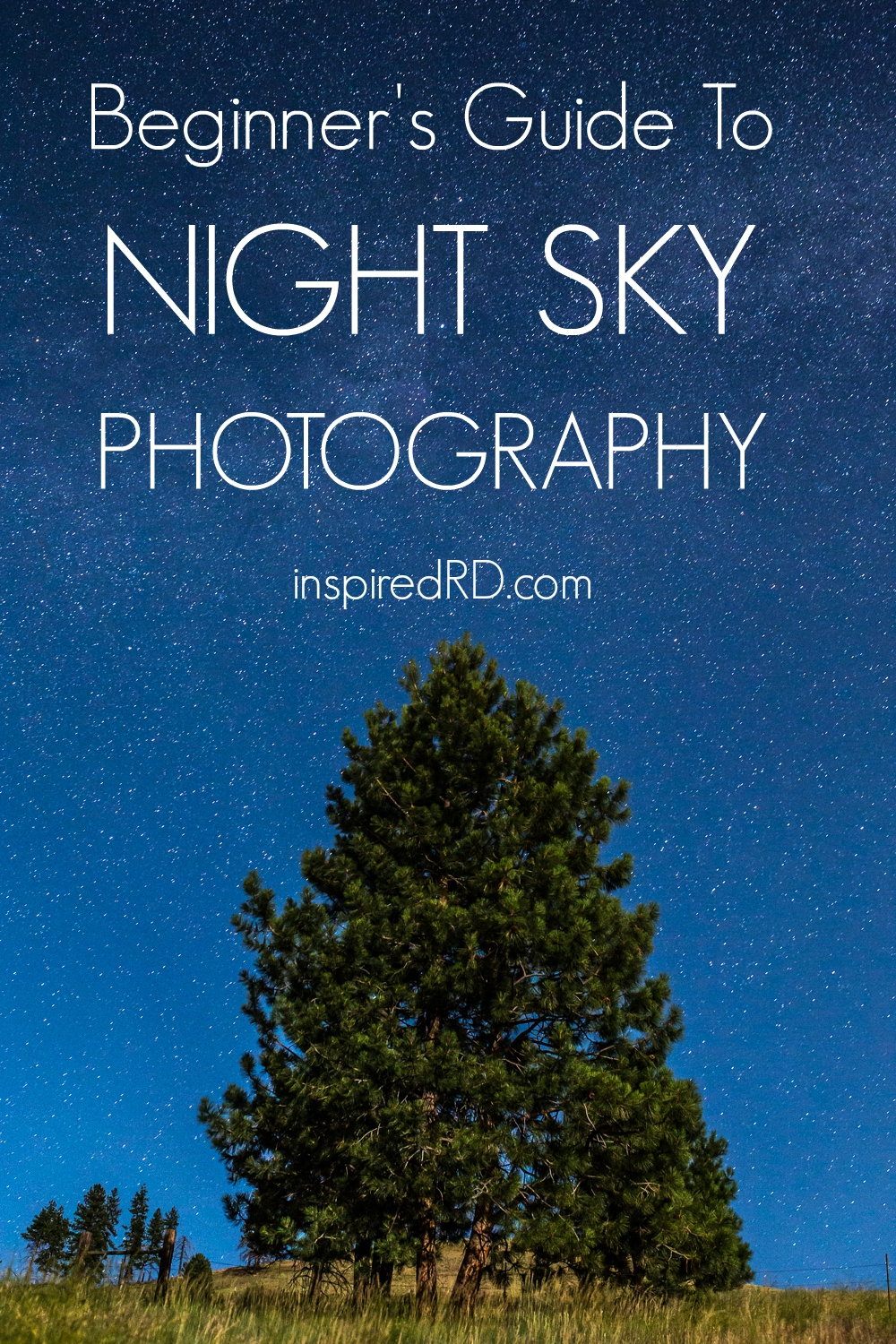 1. Equipment – DSLR camera and tripod.
(This tutorial is for DSLR cameras.) Last year I upgraded to a Canon 6D after spending a few years shooting and practicing on a Canon Rebel T3. I love the Canon 6D because of how well it shoots in low light situations (and night sky photography is pretty much the lowest light you can get).
Any DSLR camera will work for night sky photography, but the nicer the camera, the less noise (or grain) you will see in your photos.
A sturdy tripod is very important for night sky photography because your camera will be shooting for 10-25 seconds at a time, and you don't want any kind of movement to blur your photo. If you don't have a tripod, you could always try propping up your camera, but be careful! You don't want to break it!
I bought a used tripod from Justin (score!), but you can find new and used tripods in all price ranges.
2. RAW.
Make sure you set your camera to shoot RAW files. These photo files are huge, and you will need a good amount of storage to upload them, but it's worth it because you will be able to recover tons more light and color during editing. I upload my night sky photos straight to an external hard drive to save space on my computer.
3. Manual Mode.
Make sure your camera is set to Manual ('M') mode so you have full access to change the settings. If you need help with how to change any of your settings, please consult your camera manual.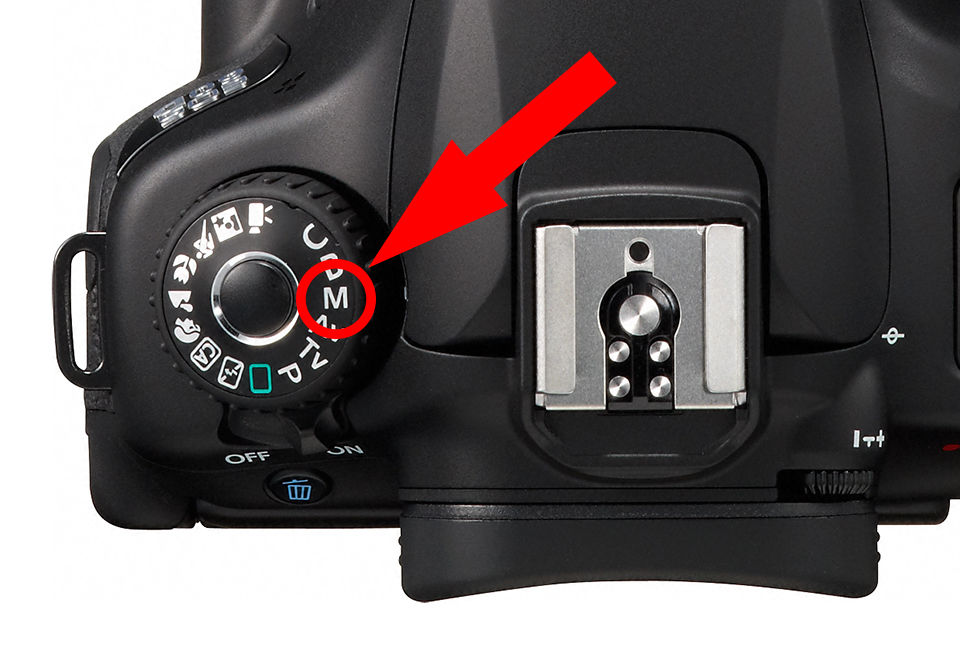 4. Get away from city lights.
To see a bunch of stars in the sky, you have to get away from light pollution which means getting away from the city. The good news is, you probably won't have to go too far. I was shocked to be able to take the Salt River photos only 45 minutes from my house.
And here in Montana, the skies are dark enough that the photo below was taken right in front of our house. Just remember, your camera will be able to see more stars than your eyes can, so get out and experiment in different spots.
Also, the light of the moon can make a huge difference. For truly dark skies and Milky Way shots, aim for a night where there isn't a bright moon.
But don't let a bright moon keep you from shooting. You can use the moonlight to your advantage, like I did here where the moon illuminated the tree and grass, giving this shot a beautiful front-lit appearance.
5. 2-second timer.
Using a 2-second timer gives your camera extra stability on the tripod. This way, there won't be any shake from your finger pressing the shutter button down. Simply press the button, step back, and two seconds later, your long exposure will begin.
6. Focus to infinity.
Last year when I tried (and failed) to start doing night sky photography, I couldn't figure out how to get the stars in focus. Thankfully, Justin taught me to set my lens to infinity.
What does that mean? Make sure your lens is set to manual focus (MF, not AF. The button is on the left side of the lens.) Then twist your lens until the line from the infinity symbol is matched up to center line on the bottom. On my 35mm lens, that looks like this: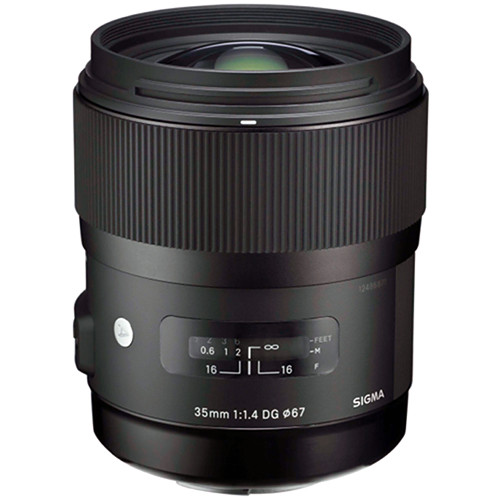 If you are using a lens that doesn't have the infinity symbol, do this instead: Find a light far off in the distance that is big enough for you to focus on (you can use the moon if it is out). Manually focus on that light, and you should be good to go.
7. ISO 1600.

This is always where I start with my ISO for night sky photography. It's high enough to let in the light from all the stars in view, but not so high that my photos are super grainy. If I go below 1600, I lose out on some stars. BUT, I do go below 1600 if I am shooting at the moon.
This is where you can start to play around with your settings depending on lighting conditions. So start at 1600, then see what works best for you on that specific night.
You can see in my first two photos at the top of this post that I went all the way up to 2500 and 3200 to catch more light, but in the photo below, I went all the way down to 400 to capture both moon and stars together.
8. 500 Rule for Shutter Speed.
To capture the most of the night sky, you want to use the widest lens you have available. For me, that is usually my 35 mm Sigma lens (f/1.4). Whatever lens you use, divide that number into 500 to get a good starting point for your shutter speed.
For my 35 mm lens, I divide 500 by 35 and end up with 14.29. So I round that up and start with a 15-second exposure. Usually this is where I stay, but sometimes I go up to 20 seconds.
Just be sure not to go over 25 seconds, or the stars will start to move on you. (Which of course can be really great for star trail photos, but that is an advanced lesson for another day that I still need to learn myself.)
9. F-Stop below 4.5.
Ok, f-stop talk can get confusing since large aperture means a small number and vice versa. So let's just stick with numbers. Generally speaking, the lower your f-number, the more light that can come in, and the better star photos you will get.
But with some lenses, some vignetting can occur at the lowest number, so play around with it. With my 35 mm lens, I can go all the way down to f/1.4, but I sometimes find f/2.0 to be clearer.
One note about the f-stop: If you are at ISO 1600, and your 500-rule exposure time, and your photos are turning out too bright, the f-stop is the best thing to change. You don't want to lower your ISO, or you will lose out on some stars (unless, like mentioned above, you are shooting towards the moon).
So play around with a larger number f-stop. There have been times when I have even gone above 4.5, but this is usually when I am trying to capture stars with too bright of a sky.
*Remember, all of these tips are starting points. You will want to adjust as you go along and experiment with your own equipment.
10. Star Walk App.
This is completely optional, but I find the Star Walk app most useful when I am wanting to take photos of the Milky Way. You can hold your phone up to the sky and find the most concentrated section of stars to shoot.
So there you have it. With these 10 tips, you should be able to get out there and start taking your own breathtaking night sky photography.
Questions? Please Ask!
Save