Have you ever tried to watch Saved by the Bell in the correct order? While you can get all of the episodes on Hulu, it's pretty obvious once you start watching that time is jumping around and chronologically it doesn't make much sense.
This was never something that bothered me as a kid because I watched whatever episode happened to be on after school, but these days, when you sit down to watch a series start to finish, you want to do so from start to finish. And if you go to Hulu right now and start watching, Saved by the Bell is ALL over the place.
For instance, episodes 1-14 feature A.C. Slater, but then you "meet" Slater for the first time in episode 15. What?
Thanks to quarantine, and baseball being suspended, my husband had time to put together this chronological list of Saved by the Bell episodes.
They are numbered by seasons on Hulu not as on IMDB.
We hope you have as much fun watching it with your kids as we have!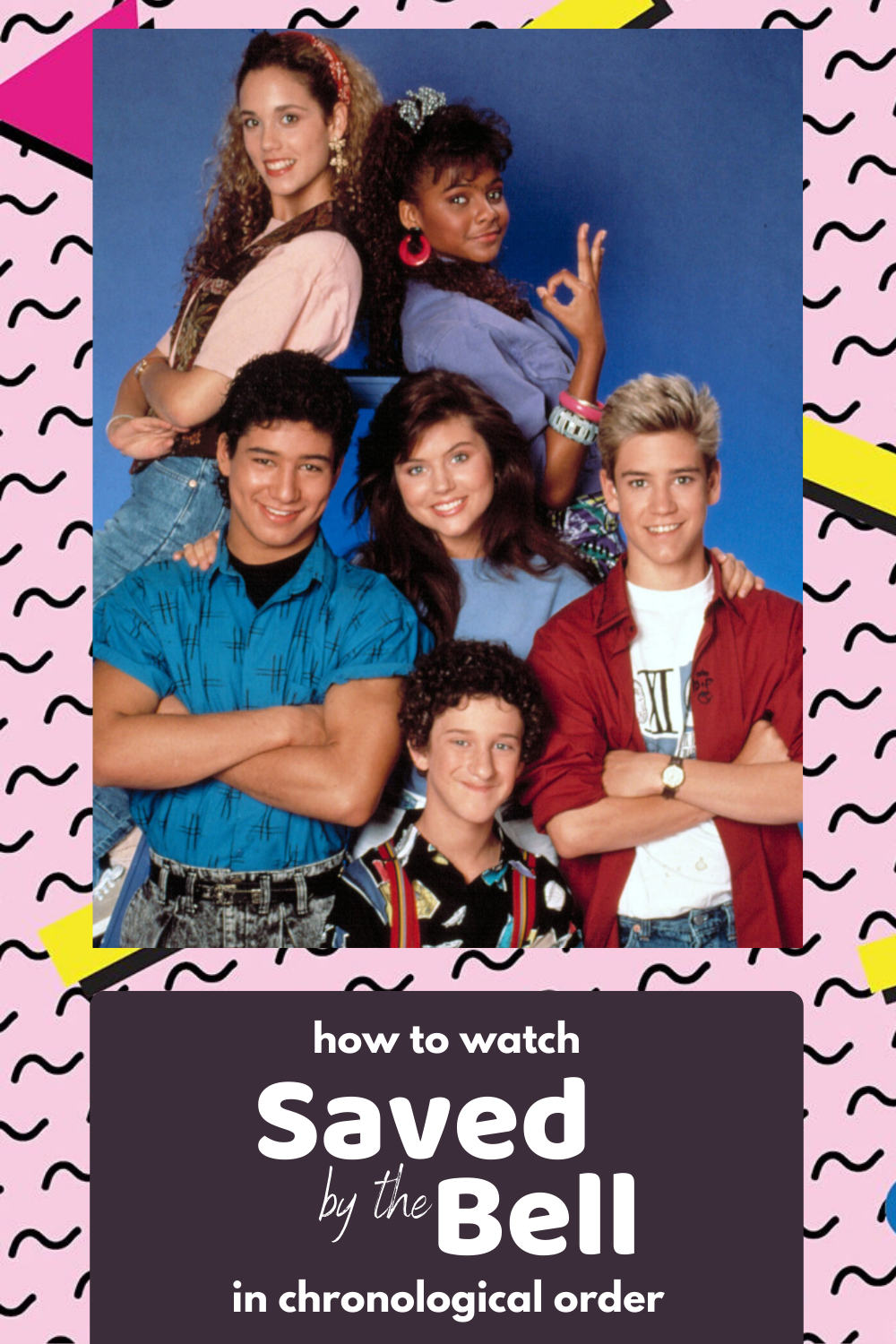 Here is how to watch Saved by the Bell in the correct order (on Hulu):
Season 1: 1988-1989
Good Morning, Mrs. Bliss
1.1 Summer Love
1.2 Love Letters
1.3 Wall Street
1.4 Leaping to Conclusions
1.5 Parents and Teachers
1.6 The Showdown
1.7 Save the Last Dance for Me
1.8 The Boy Who Cried Rat
1.9 Let's Get Together
1.10 Practical Jokes
1.11 Stevie
1.12 Clubs and Cliques
1.13 The Mentor
Season 2: 1989-1990
Saved By The Bell
2.15 King of the Hill
2.4 Fatal Distraction
2.5 Screech's Woman
2.3 The Gift
2.2 The Lisa Card
2.13 The Election
2.6 Aloha Slater
2.1 Dancing to the Max
2.7 The Substitute
2.8 Cream for a Day
2.12 The Mamas & The Papas
3.14 The Babysitters
2.9 Pinned to the Mat
2.10 Beauty and the Screech
2.14 The Zack Tapes
2.11 The Friendship Business
3.12 Close Encounters of the Nerd Kind
4.23 Slater's Friend
2.16 Save That Tiger
Season 3: 1990-1991
4.19 Screech's Birthday
3.6 Blind Dates
3.1 The Prom
3.16 From Nurse to Worse
3.3 Save the Max
3.11 1-900-CRUSHED
3.4 Driver's Education
3.7 Rent-A-Pop
3.8 Miss Bayside
3.2 Zack's War
3.10 Model Students
3.13 Running Zack
3.5 House Party
3.9 Jessie's Song
3.15 The Fabulous Belding Boys
3.18 The Glee Club
Season 4: 1991-1992
3.17 Breaking Up Is Hard to Undo
5.18 The Video Yearbook
5.20 Snow White and the Seven Dorks
4.1 The Last Dance
4.3 The Aftermath
4.2 Zack's Birthday (Malibu Sands)
4.4 The Game (Malibu Sands)
4.6 Fourth of July (Malibu Sands)
4.10 Boss Lady (Malibu Sands)
4.8 My Boyfriend's Back (Malibu Sands)
4.12 The Last Weekend (Malibu Sands)
4.18 Palm Springs Weekend (1)
4.19 Palm Springs Weekend (2)
5.22 Best Summer of My Life (Malibu Sands Recap + Palm Springs recap)
4.23 Cut Day
4.13 The Wicked Stepbrother (1)
4.14 The Wicked Stepbrother (2)
4.9 Fake I.D.'s
4.15 Date Auction
4.20 Hold Me Tight
4.17 S.A.T.'s
3.5 Operation Zack/The Surgery
5.11 Love Machine
4.24 Home For Christmas (1)
4.25 Home For Christmas (2)
4.7 Check Your Mate
4.11 Pipe Dreams
4.21 No Hope With Dope
4.26 Mystery Weekend
4.22 Rockumentary
4.16 All in the Mall
5.8 Day of Detention
1992: Saved by the Bell: Hawaiian Style
Season 5: 1992-1993
*The following episodes alternate Tori and Kelly/Jessie about every other episode.
5.4 The New Girl
5.1 The Fight
5.6 Teen-Line
5.5 The Bayside Triangle
5.7 Masquerade Ball
5.9 Wrestling With The Future
5.10 Drinking and Driving
5.2 Student-Teacher Week
5.21 Earthquake
5.12 Isn't It Romantic?
5.15 The Teacher's Strike
5.16 Slater's Sister
5.17 The Senior Prom
5.14 The Will
5.3 Screech's Spaghetti Sauce
5.11 Class Rings
5.24 School Song
5.26 Graduation
5.25 The Time Capsule
1993-1994: Saved by the Bell: The College Years
1.1 Pilot
1.2 Guess Who's Coming to College
1.3 Zack Lies and Videotape
1.4 Rush Week
1.5 Slater's War
1.6 The Homecoming
1.7 The Poker Game
1.8 Prof. Zack
1.9 Screech Love
1.10 Dr. Kelly
1.11 A Thanksgiving Story
1.12 Teacher's Pet
1.13 Kelly and the Professor
1.14 A Question of Ethics
1.15 The Rave
1.16 Bedside Manner
1.17 Love and Death
1.18 Marry Me
1.19 Wedding Plans
1994: Saved by the Bell: Wedding in Las Vegas
1993-2000: Saved by the Bell: The New Class
2015: Saved by the Bell: Jimmy Fallon Years
2020: Saved by the Bell
We hope this was helpful, I think he had a lot of fun putting it together for you. Goooooooo Bayside!