In the middle of our stay-at-home orders, my next door neighbor and friend shattered her collarbone while out for a jog. The last thing I wanted her to have to worry about after surgery was what to eat for dinner. So I pulled a chair into the kitchen, climbed on top, and dug out my old recipe notebook.




Welcome to the world before Pinterest…and the golden age of Clipart. I mean, look at this thing! Stuffed full of recipes cards, magazine pages, and printouts, all from my pre-gluten-free days and most from Rachael Ray.
One of the recipes jumped out at me and I remembered how much I liked it (and how easy it was) – Beef Picadillo. I texted my friend to make sure she likes olives (YES!) and got to work.
As with every recipe, I started with what it said to do, then tweaked it to my own liking, adding a little more tomato paste, almost doubling the olives, and adding a splash of my favorite secret ingredient.
After taking it over to her house with a container of Mexican Rice, her husband (who does NOT like olives and WASN'T hungry, thank you very much) texted me to say he had accidentally eaten two bowls and what did I put in there oh my gosh this is amazing.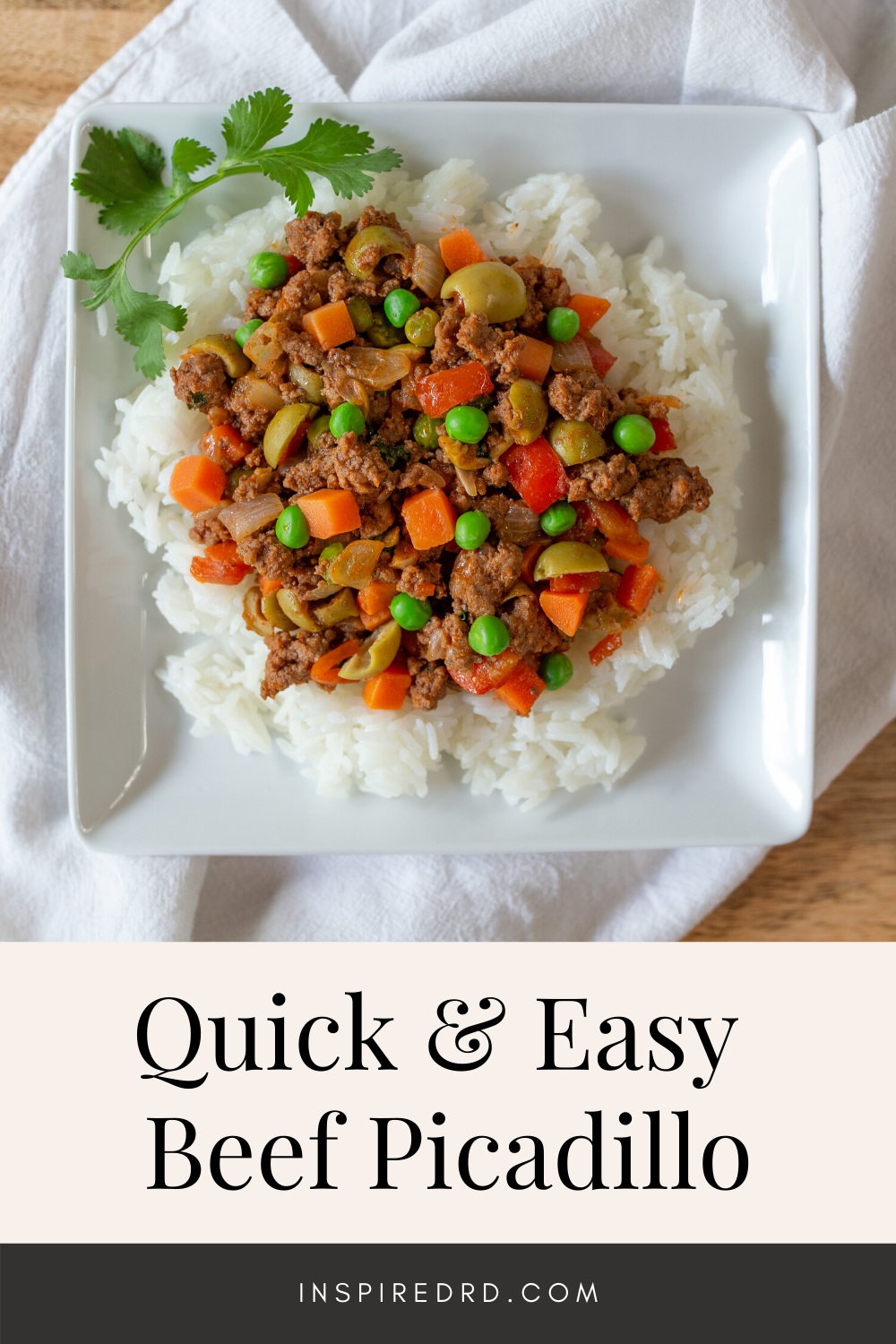 This Beef Picadillo recipe is sure to please, easy to throw together over rice, and naturally gluten-free.
I hope you like it as much as they did!
Recipe notes:
**You could easily make this paleo or Whole 30 compliant by serving over cauliflower rice, a baked sweet potato, or your favorite veggie noodles.
**The secret ingredient is optional and probably sounds a little strange, but I'm telling you, it's worth trying.
**If you're one of those people who just can't do cilantro, substitute in some green onions or your favorite fresh herb (or just omit it altogether).
Like most of my recipes, this one is easy to play around with!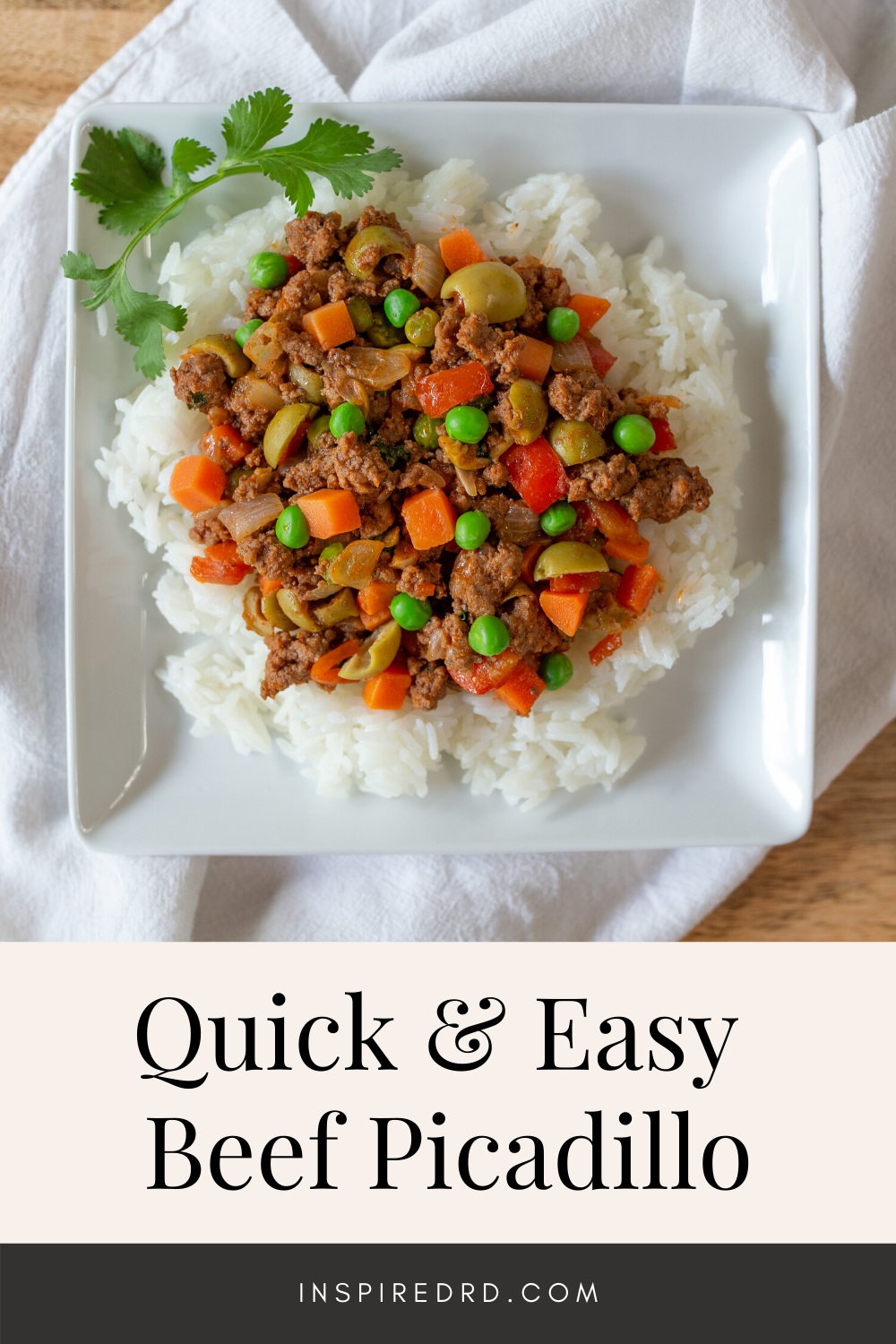 Beef Picadillo
This beef picadillo is sure to please, easy to make, and naturally gluten free!
Ingredients
2

Tbsp.

olive oil

1

yellow onion

diced

1/2

red bell pepper

diced

1/2

cup

pimiento stuffed olives

coarsely chopped

3

cloves

garlic

minced

1

lb.

ground beef

3

Tbsp.

tomato paste

3

Tbsp.

water

1

cup

frozen peas and carrots

1

Tbps. fresh cilantro

chopped

1/2

tsp.

fish sauce

optional

salt & pepper to taste
Instructions
In a medium skillet, heat oil over medium-high heat. Add onion, bell pepper, garlic, and olives. Cook until tender, about 5 minutes.

Add in ground beef, using a spoon to break up the meat as it browns.

Stir in tomato paste and turn heat down to medium-low, stir for 2 minutes.

Add water and frozen peas and carrots, cover until just cooked through, about 4 minutes.

Stir in fish sauce (optional - but it is that *special secret ingredient* that adds a savory punch that makes people say "OMG why can't I stop eating this")

Stir in cilantro, salt, and pepper.

Serve over rice.